Cape Coral Chiropractic Services
Chiropractic health care primarily focuses on examining, evaluating and treating the neck, spine and pelvis to determine if one or many areas are malfunctioning and thus causing abnormal "biomechanics" or body movements. Through aging, gravity, emotional stress, previous injuries and poor posture, our bodies can also become out of balance. This can translate in our bodies as loss of energy, decrease in flexibility, backache, headache and general aches and pains. Chiropractic adjustments can reduce or correct these misalignments so that normal, natural body function may be restored.
We Provide Treatment for:
Neck & Back Pain

Shoulder & Arm Pain

Leg Pain

Joint Pain & Stiffness

Disc Problems

Muscle Strains/Ligament Sprains

Scoliosis

Arthritis

Car accidents/Whiplash

Pregnancy Back Pain

Allergies/Asthma

Pediatric Care

Ear Infections

Digestive Issues

Headaches/Migraines

Geriatric Care

Neuropathy

And More!
Other Services include:
Wellness Products
Whole Food Vitamins
See What Our Patients Have To Say!

What Are Chiropractic Modalties?
Chiropractic modalities include therapeutic activities essential to the healing process, as they increase range of motion, loosen and strengthen muscles, joints, and ligaments, and protect against recurring or new injuries.
Our Chiropractic Modalties Include:
A very important part of the healing process is lifestyle modification. By teaching stretches to our patients, we are giving them the tools to continue improving their health at home and in everyday life. Chiropractic assistants will educate patients on how to stretch their muscles in order to increase range of motion and flexibility. Patients will also learn proper workplace ergonomics, suitable sleeping positions, and correct posture.
NON-SURGICAL SPINAL DECOMPRESSION
We are proud to offer state of the art spinal decompression (or traction) machines in our office. Traction may be performed on the neck or lower back. Patients with disc issues such as bulges or herniations find that decompression is a fantastic modality and can actually fix the root cause of their problems. Decompression treatments are carefully dictated by our physicians after careful consideration and, most commonly, review of an MRI report. Many patients that opt to do traction are considered surgical candidates and may likely avoid surgery with this treatment. Our decompression machines slowly and mechanically pull (traction) the spine apart with utmost accuracy in order to relieve disc compression and take pressure off of the spinal nerves. With this treatment, pain may be significantly reduced, numbness/tingling in limbs may be resolved, and disc issues may be drastically improved if not wholly healed.
Our office offers Foot Levelers Orthotics to patients of all ages. Our complimentary foot scan provides patients with a detailed postural analysis and a colorized scan of how their feet are affected. The feet are the foundation of the body, and many back, hip, knee, and foot issues may be significantly improved with these state of the art custom orthotics.
Digital X-Rays are taken in house to determine cause of pain and to ensure that no extenuating circumstances are present. Digital X-Rays are vital for our physicians to provide the most thorough and accurate care. All X-Rays are done by certified technicians. Patients will review films with the doctors and a radiologist will provide a detailed report after films are sent out for reading.
Athletic or sports physicals are performed in our Cape Coral office for $50. Physicals are conducted by appointment only during our Chiropractic hours. Minors must have an adult present in order for the physical to be completed.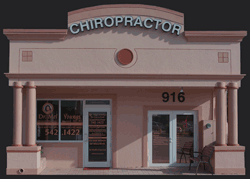 Dr. Mel Youngs. D.C., P.A.
Chiropractic Physicians & Associates
916 Cape Coral Pkwy. E
Cape Coral, FL 33904
239-542-1422
© Dr. Mel Youngs Chiropractic Physicians and Associates