Dr. Misty Hutchinson, D.C.
Dr. James Haakenson, D.C.
"The Doctor of the future will give no medicine, but will interest his patients in the care of the human frame, in diet, and in the cause and prevention of disease!"
– Thomas Edison
Three of the Friendliest Chiropractors in Cape Coral!
Dr. Melina Youngs, D.C.
Dr. Melina "Mel" Youngs…is a longtime resident of Cape Coral. In fact, there is a unique story behind her 916 Cape Coral Parkway clinic. It was the same location her parents owned and operated the famous YUMS ice cream store for many years. Her practice has been built by getting people well, one person at a time. Good news travels fast and patients who received relief from their pain have referred their friends and family to Dr. Mel. Her patients have become her extended family and they enjoy the extra care and concern that she provides, much like the doctor–patient relationship in the old days.
Dr. Mel offers…lifestyle modification coaching to her patients that can change the way they feel through nutrition counseling, exercise instruction as well as ergonomic advice. As a nationally certified group fitness instructor and former aerobics and kickboxing instructor, she has made a full time commitment to teaching others how to achieve healthy lifestyles. Her approach to health care reflects the newest research in health preservation and longevity.
She teaches her patients the art of maintaining their health rather than just treating disease.
Dr. Mel Youngs has received the following:
B.S. in Advertising from University of Florida in 1996
B.S. in Human Biology from Logan College in 1998
Doctorate in Chiropractic in 1999
Dr. Misty Hutchinson, D.C.
Dr. Hutchinson was born in North Carolina but because her father was a Marine, grew up in the mountains of Wild Wonderful West Virginia. She obtained her Bachelors degree in Biology from Marshall University in Huntington, WV and Doctorate from Sherman College of Chiropractic in Spartanburg, SC.
She has owned her own wellness clinic for the past 18 years but recently decided she was tired of the long winters and snow. She would spend her summers as a child with her grandmother that lived in Orlando and has always enjoyed the Florida sun.
She is passionate about promoting the health of the entire family and prides herself in building lasting relationships with her patients and the community. Dr. Hutchinson has a fun family life with an overly competitive husband and a spunky daughter along with a psychotic Siamese cat and a dog that is scared of his own shadow. When she isn't at the office working you will most likely find her spending time with her family, volunteering at her daughter's school, gardening or at the gym!
Dr. James Haakenson, D.C.
Dr. Haakenson is a graduate of Palmer Chiropractic College and comes to us with 12 years of experience! Additionally, he is certified in acupuncture from Midwest College of Oriental Medicine.
Dr. Haakenson is originally from Wisconsin, and is so happy to be in the sunny Florida! He is a fabulous adjuster and is passionate about improving the health of the entire family. Dr. Haakenson is also a certified Strength and Conditioning Specialist! He is skilled in training athletes to optimize their performance. Dr. Haakenson is excited to bring his wealth of knowledge and expertise to our practice!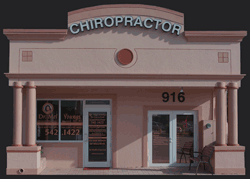 Dr. Mel Youngs. D.C., P.A.
Chiropractic Physicians & Associates
916 Cape Coral Pkwy. E
Cape Coral, FL 33904
239-542-1422