Our Fabulous Doctors
Our Fabulous Doctors
Dr. James T. Seidler, D.C.
"The Doctor of the future will give no medicine, but will interest his patients in the care of the human frame, in diet, and in the cause and prevention of disease!"
– Thomas Edison
Three of the Friendliest Chiropractors in Cape Coral!
Dr. Melina Youngs, D.C.
Dr. Melina "Mel" Youngs…is a longtime resident of Cape Coral. In fact, there is a unique story behind her 916 Cape Coral Parkway clinic. It was the same location her parents owned and operated the famous YUMS ice cream store for many years. Her practice has been built by getting people well, one person at a time. Good news travels fast and patients who received relief from their pain have referred their friends and family to Dr. Mel. Her patients have become her extended family and they enjoy the extra care and concern that she provides, much like the doctor–patient relationship in the old days.
Dr. Mel offers…lifestyle modification coaching to her patients that can change the way they feel through nutrition counseling, exercise instruction as well as ergonomic advice. As a nationally certified group fitness instructor and former aerobics and kickboxing instructor, she has made a full time commitment to teaching others how to achieve healthy lifestyles. Her approach to health care reflects the newest research in health preservation and longevity.
She teaches her patients the art of maintaining their health rather than just treating disease.
Dr. Mel Youngs has received the following:
B.S. in Advertising from University of Florida in 1996
B.S. in Human Biology from Logan College in 1998
Doctorate in Chiropractic in 1999
Dr. James T. Seidler, D.C.
Dr. James T. Seidler was born and raised in NE Ohio in a hometown called Massillon, where everyone lives and breathes football! Dr. Seidler knew at a very young age that he aspired to care for sick and hurting people. He spent much of his childhood in the hospital. He would constantly leave his room to check on the other children and report the needs of the sick children to the nurse's station. The hospital was his home away from home and it was here that his compassion for caring for others began.
Dr. Seidler earned his Bachelor of Science degree in Biology through the University of South Carolina. He spent time conducting research on the island of San Salvador in the West Indies. Dr. Seidler was a licensed Emergency Medical Technician in the state of Georgia. After graduating top in his class, he realized his passion for caring for others and decided to return to graduate school to pursue a career in Chiropractic. Dr. Seidler attended Life University in Marietta, Georgia and graduated in March 1999 with a Doctorate of Chiropractic. He has since practiced in Atlanta, Georgia working in personal injury and multidisciplinary practice. It was always a dream of his to move to Florida and obtain his Florida Chiropractic License. He was thrilled to achieve that goal in the Fall of 2013. Dr. Seidler joined Dr. Mel's Wellness team in October 2013.
Dr. Seidler is also an avid college football fan. On football Saturdays, you can probably find him somewhere cheering on his South Carolina Gamecocks and sporting some Garnet & Black. A fun hobby of Dr. Seidler's has been acting and he has appeared in 4 television shows and 14 movies. He has even played a doctor several times, so he is one of few people who can actually say: 'I am a doctor and I play one on TV!'
Dr. Doug Sterban, D.C.
Dr. Sterban is from Tennessee where he had a successful chiropractic practice in Nashville before recently relocating to Florida. He received his Bachelors in Biology and Doctor of Chiropractic from Life University in Atlanta, Georgia. The techniques he utilizes include: Diversified, Gonstead, Thompson, Cox-Flexion/Distraction, as well as physiotherapy and spinal rehabilitation. Not only is Dr. Sterban proficient in spinal health, he also specializes in sports injuries. Providing pain relief as well as rehabilitation to shoulder, elbow, wrist, hip, knee and foot injuries caused by sport and non-sport activities.
He is dedicated to educating his patients about stress management, injury prevention, nutrition, and how to maintain peak performance in all facets of life. His passion is derived from being a part of helping patients achieve optimal health with proper nutrition, exercise, and regular chiropractic care.
His mission is to empower as many people as possible to experience their optimal health and potential through genuine care and education. Dr. Sterban welcomes any patients that are interested in a life changing experience.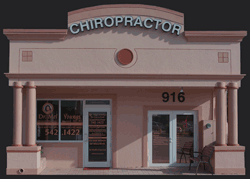 Dr. Mel Youngs. D.C., P.A.
Chiropractic Physicians & Associates
916 Cape Coral Pkwy. E
Cape Coral, FL 33904
239-542-1422