Dr. James T. Seidler, D.C.
Dr. Misty Hutchinson, D.C.
"The Doctor of the future will give no medicine, but will interest his patients in the care of the human frame, in diet, and in the cause and prevention of disease!"
– Thomas Edison
Four of the Friendliest Chiropractors in Cape Coral!
Dr. Melina Youngs, D.C.
Dr. Melina "Mel" Youngs…is a longtime resident of Cape Coral. In fact, there is a unique story behind her 916 Cape Coral Parkway clinic. It was the same location her parents owned and operated the famous YUMS ice cream store for many years. Her practice has been built by getting people well, one person at a time. Good news travels fast and patients who received relief from their pain have referred their friends and family to Dr. Mel. Her patients have become her extended family and they enjoy the extra care and concern that she provides, much like the doctor–patient relationship in the old days.
Dr. Mel offers…lifestyle modification coaching to her patients that can change the way they feel through nutrition counseling, exercise instruction as well as ergonomic advice. As a nationally certified group fitness instructor and former aerobics and kickboxing instructor, she has made a full time commitment to teaching others how to achieve healthy lifestyles. Her approach to health care reflects the newest research in health preservation and longevity.
She teaches her patients the art of maintaining their health rather than just treating disease.
Dr. Mel Youngs has received the following:
B.S. in Advertising from University of Florida in 1996
B.S. in Human Biology from Logan College in 1998
Doctorate in Chiropractic in 1999
Dr. James T. Seidler, D.C.
Dr. James T. Seidler was born and raised in NE Ohio in a hometown called Massillon, where everyone lives and breathes football! Dr. Seidler knew at a very young age that he aspired to care for sick and hurting people. He spent much of his childhood in the hospital. He would constantly leave his room to check on the other children and report the needs of the sick children to the nurse's station. The hospital was his home away from home and it was here that his compassion for caring for others began.
Dr. Seidler earned his Bachelor of Science degree in Biology through the University of South Carolina. He spent time conducting research on the island of San Salvador in the West Indies. Dr. Seidler was a licensed Emergency Medical Technician in the state of Georgia. After graduating top in his class, he realized his passion for caring for others and decided to return to graduate school to pursue a career in Chiropractic. Dr. Seidler attended Life University in Marietta, Georgia and graduated in March 1999 with a Doctorate of Chiropractic. He has since practiced in Atlanta, Georgia working in personal injury and multidisciplinary practice. It was always a dream of his to move to Florida and obtain his Florida Chiropractic License. He was thrilled to achieve that goal in the Fall of 2013. Dr. Seidler joined Dr. Mel's Wellness team in October 2013.
Dr. Seidler is also an avid college football fan. On football Saturdays, you can probably find him somewhere cheering on his South Carolina Gamecocks and sporting some Garnet & Black. A fun hobby of Dr. Seidler's has been acting and he has appeared in 4 television shows and 14 movies. He has even played a doctor several times, so he is one of few people who can actually say: 'I am a doctor and I play one on TV!'
Dr. Amanda Schenk, D.C.
Dr. Amanda P. Schenk grew up as a 'city girl' in Toronto, Ontario, Canada. Her dream of working in health care started as a young girl. Her persistence and hard work allowed her to make those dreams come to fruition. She moved to Florida 4 years ago and very much enjoyed the beach life over the snow back home.
Dr. Schenk graduated cum laude at Palmer College of Chiropractic in Port Orange, Florida in December of 2016. While at Palmer she took several extra courses to broaden her skill set. These include: Instrument Assisted Soft Tissue Mobilization, Flexion and Distraction, Pettibon, Activator methods and motion palpation. During her clinical internship, she worked under a pediatric chiropractor as her mentor. This broadened her understanding of the importance of chiropractic for people of all ages. She also did a preceptorship in Fort Myers Beach in a wellness based practice.
Dr. Schenk graduated on the Dean's list with a Bachelor of Science degree in Life Sciences through McMaster University. This is one of the most well respected universities in Canada and is consistently ranked within the top 100 universities in the world. McMaster's science and research based education gave Dr. Schenk the foundations she needed to pursue the career in healthcare she always wanted.
After 8 years of education Dr. Schenk was eager and excited to start the next chapter of her life and join Dr. Mel's Chiropractic Wellness team.
Dr. Misty Hutchinson, D.C.
Dr. Hutchinson was born in North Carolina but because her father was a Marine, grew up in the mountains of Wild Wonderful West Virginia. She obtained her Bachelors degree in Biology from Marshall University in Huntington, WV and Doctorate from Sherman College of Chiropractic in Spartanburg, SC.
She has owned her own wellness clinic for the past 18 years but recently decided she was tired of the long winters and snow. She would spend her summers as a child with her grandmother that lived in Orlando and has always enjoyed the Florida sun.
She is passionate about promoting the health of the entire family and prides herself in building lasting relationships with her patients and the community. Dr. Hutchinson has a fun family life with an overly competitive husband and a spunky daughter along with a psychotic Siamese cat and a dog that is scared of his own shadow. When she isn't at the office working you will most likely find her spending time with her family, volunteering at her daughter's school, gardening or at the gym!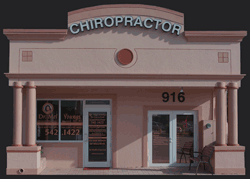 Dr. Mel Youngs. D.C., P.A.
Chiropractic Physicians & Associates
916 Cape Coral Pkwy. E
Cape Coral, FL 33904
239-542-1422