Dr. Mel's office is now OPEN with limited hours!
We are staying informed on the CDC and social distancing guidelines. This will likely be a new normal for everyone continuing into the future. Although chiropractic is considered an essential business, we closed temporarily out of an abundance of caution for our team and patients. We will have a soft opening with a limited schedule starting this Monday, 4/27!
We will be open Monday and Wednesday from 8am-6pm. As well as Friday from 8am-12pm. This soft opening will be solely for chiropractic at this time. We will keep you updated as we widen our service offerings. Our disinfection processes will continue as we had prior to our closure.
We ask that if you are ill or anyone in your household is ill to refrain from coming into the office.
We will monitor the temperatures of our team and all patients before entering the office.
We ask that all patients, as well as anyone who is coming with you, wear some sort of face protection. This can be a mask, scarf, or bandanna.
We are limiting the number of people in our office. That being said, we are limiting additional guests to one caregiver or child.
We are now proud to announce mobile check-in that you can do on your own smartphone! We will send you a link about an hour before your appt, you click the link, fill out the simple touch body diagram, and hit send! That can be done from your home or car.
Please hang out in your car or in our outside waiting area and we'll text or call you when your turn to come in!
We will be answering phones and email from 8:00am-12:00pm Tuesdays and Thursdays starting 4/23. We will not be seeing patients on those days.
Email us if you have any questions, concerns, or scheduling!
We believe Chiropractic keeps you healthier and along with good nutrition, exercise, positive mindset, following CDC guidelines, and LOVE.. we'll all make it to the other side. See you soon!
Yours in health,
Dr. Mel Youngs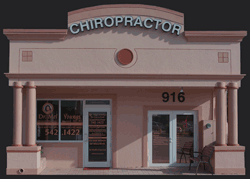 Dr. Mel Youngs. D.C., P.A.
Chiropractic Physicians & Associates
916 Cape Coral Pkwy. E
Cape Coral, FL 33904
239-542-1422
[et_bloom_inline optin_id="optin_2"]
© Dr. Mel Youngs Chiropractic Physicians and Associates